How to Prepare a House for a Photoshoot
Posted by Nicole Kennedy on Thursday, March 4, 2021 at 12:00 PM
By Nicole Kennedy / March 4, 2021
Comment
BoxBrownie.com (March 2021) is founded on the principle that presentation is the key to selling a home. Proper presentation increases value and sells homes faster.
At the core of all residential real estate presentation is the photoshoot. If presentation is the key to selling a home, then the photoshoot is the key to an appealing presentation.
And as any experienced real estate photographer will tell you, a quality photoshoot will seldom happen without preparation.
If you are a real estate agent or a homeowner seeking to get the best value for your property, this post will assist you in the days leading up to your photoshoot. ...
We're going to walk you through your home and give you a room-by-room breakdown of how to prepare for that important day when the photographer arrives. ...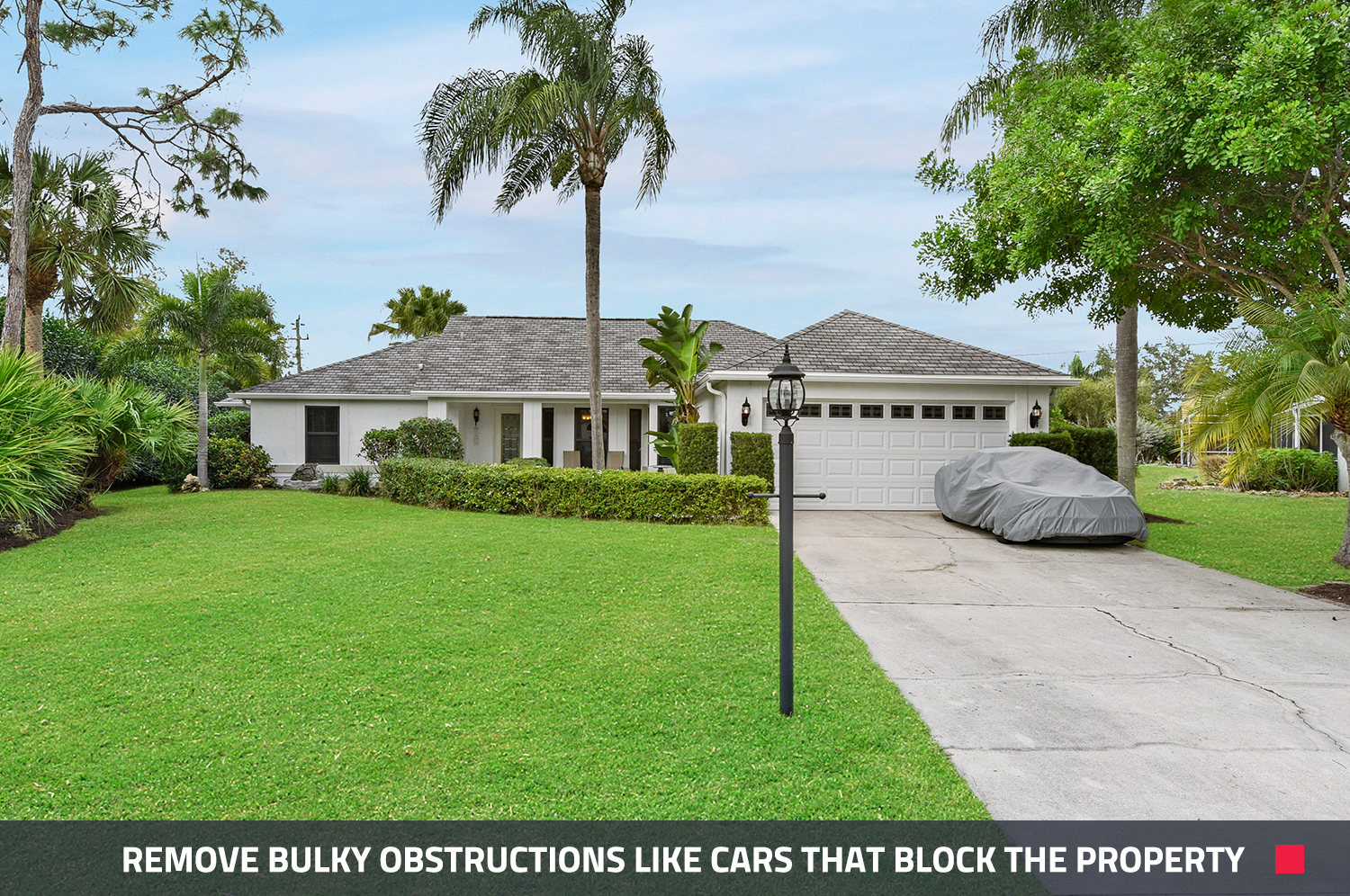 OUTSIDE
Before we get started on what you need to do to prepare the interior of your home, let us begin where perhaps the most important photo of your house will be taken: the exterior.
When preparing for your photoshoot, careful attention must be given to the outside of your home. Less is almost always more in this important area. Our BoxBrownie.com Pre-Photography Checklist identifies 14 exterior items to remove when preparing your property for the photographer.
Some of the most important (and overlooked) items to remove are:
Cars, caravans, and trailers from the driveway.

These bulky obstructions can block the house you are trying to showcase.

Garbage/Rubbish bins.

Hide them out of sight. For obvious reasons, you don't want to steer home buyers' thoughts towards the trash when you are seeking to unlock their dreams.

Toys, bicycles, and skateboards.

These emblems of life and leisure create a bad impression when left abandoned in the yard or driveway.

Real estate signs.

These should be removed...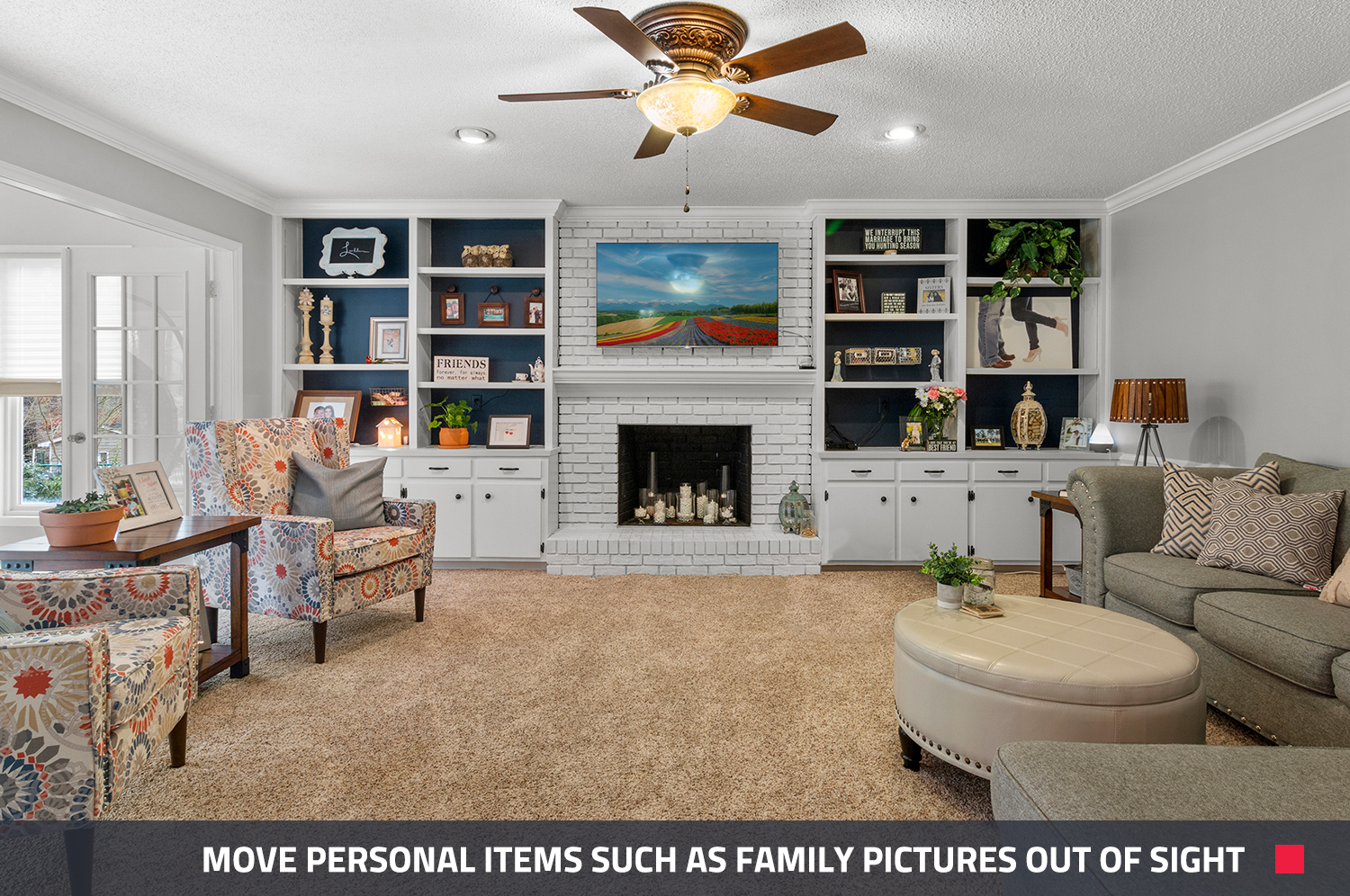 GENERAL
Before we start focusing on the individual rooms, let's go over some general ways to prepare your home for when the photographer arrives.
First, almost all personal items or items of sentiment should be out of sight for the shoot. Family pictures, memorabilia, and personalized ornaments, like the 'World's Greatest Beer Drinker' fridge magnet you got for Christmas in 2012, should all be removed before a shoot.
Another general rule is that anything indicating an animal's presence should not be on display in the real estate photos of your home. Water bowls, pet beds, squeaky toys, leashes, or collars should all be removed from sight in advance of the photoshoot.
Other things to keep in mind are:
Windows and mirrors should be free of streaks.
Rubbish/garbage bins should be hidden.
Remove floor mats, doormats, and rugs.
Turn on all lights and lamps; also, replace all faulty bulbs.
Ceiling fans should be turned off.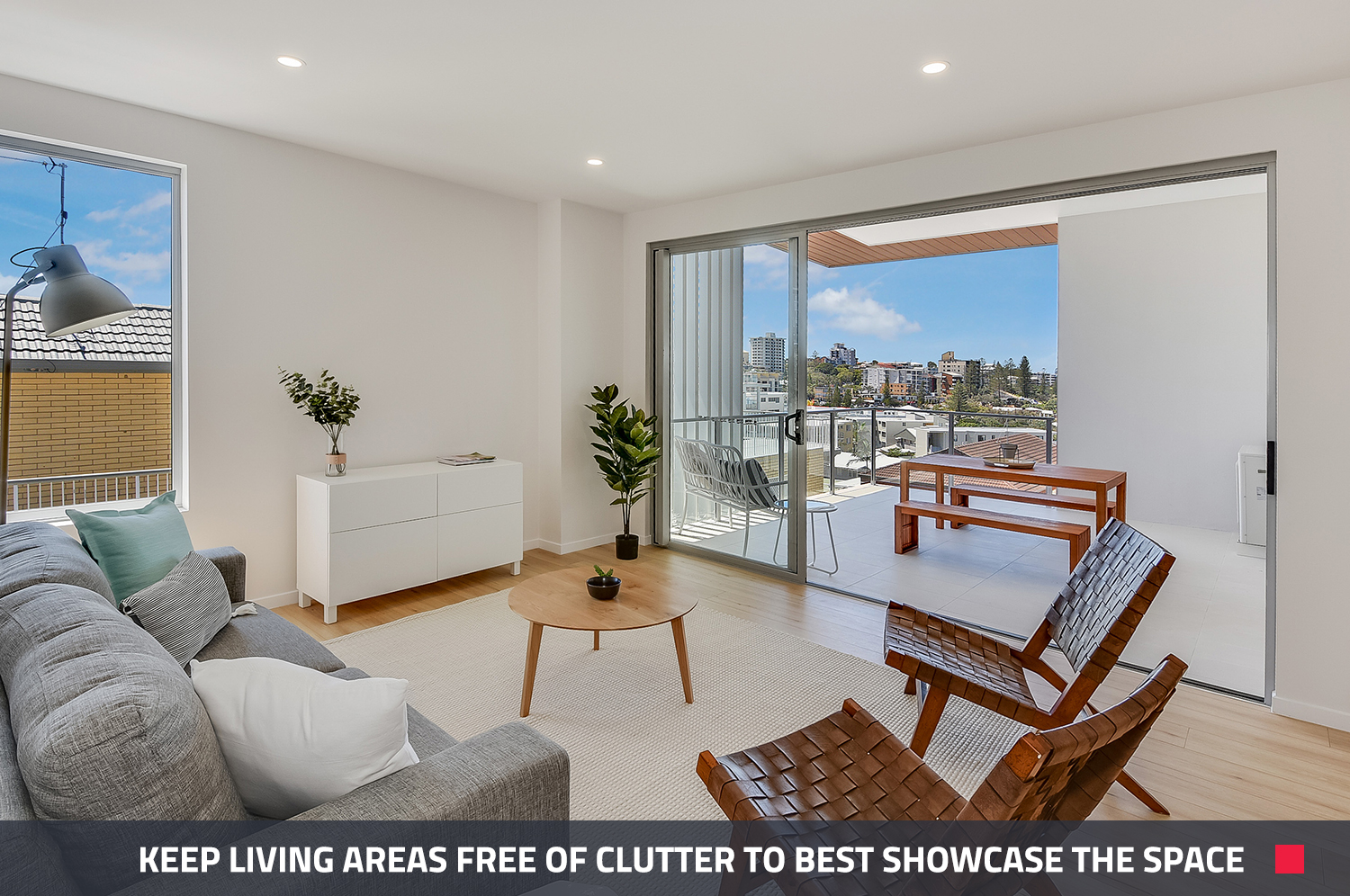 LOUNGE / LIVING ROOM
Professional photography of living areas generally follows the de-clutter rule. People need to envision themselves living in these spaces. This can be difficult if their eyes are tripping over children's toys or electrical cords, if coffee tables are cluttered with magazines and newspapers, or couches are so loaded up with decorative pillows that there's no place to sit down!
Here are some reliable ways to prepare your living room for a photoshoot:
Put away any video game equipment, TV remotes, or DVDs
Hide any visible electrical cords
Get rid of all books, magazines, coffee cups, or additional clutter
Neatly arrange cushions, and keep their presence minimal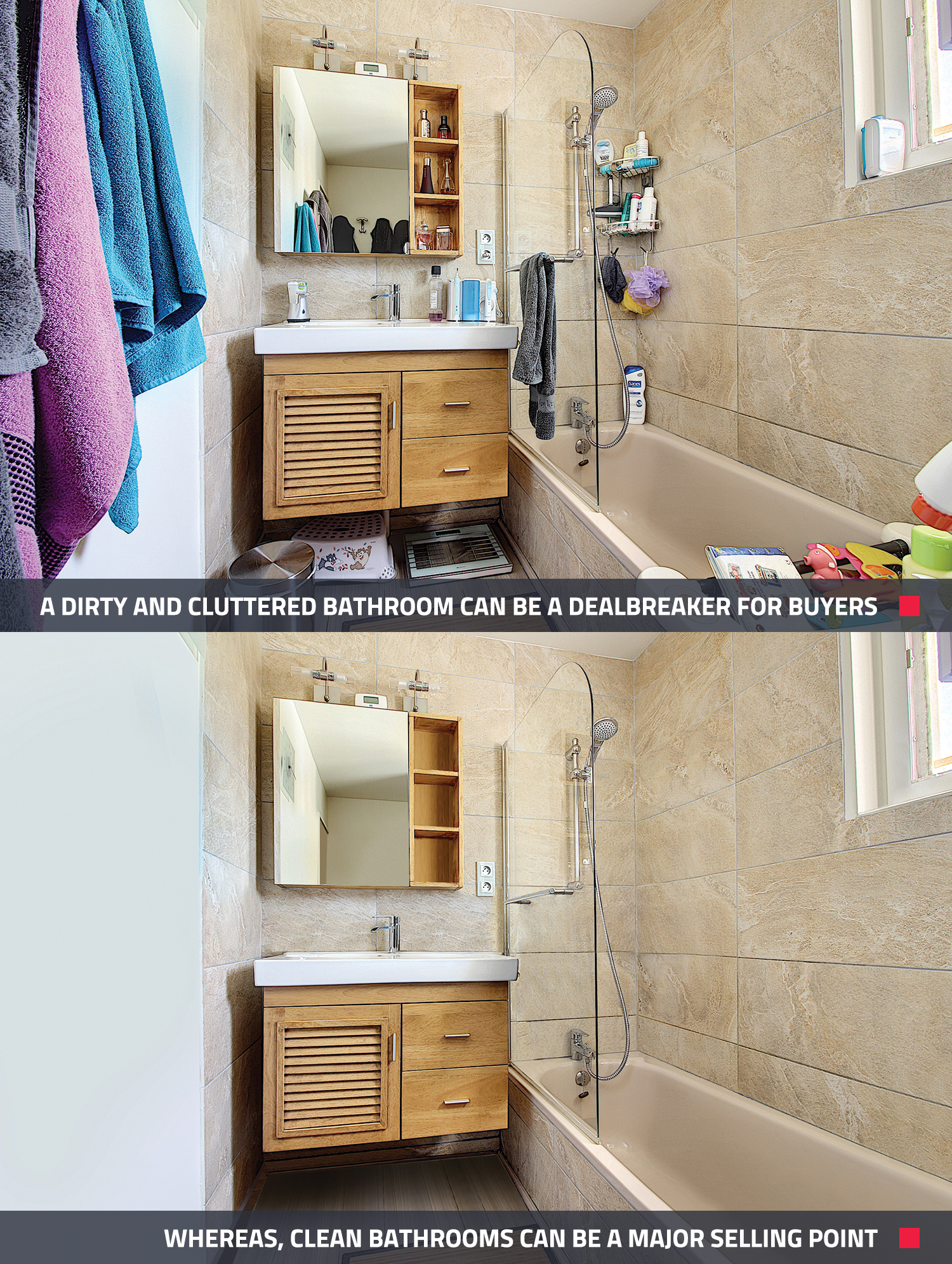 BATHROOM / ENSUITE
Do not underestimate the home-selling power of the bathroom! Any agent will tell you how high a priority a good bathroom is to most home buyers. A bathroom is where a great deal of time is spent to begin and end each day. It is also a room that friends and visitors will see.
A bathroom that exudes a clean, relaxing, and comfortable atmosphere is a major selling point for any home. Perhaps even more importantly, an unappealing bathroom can be a dealbreaker.
Here are some ways to prepare your bathrooms and ensuites for a real estate photography shoot:
Ensure shower screen is free of streaks
Put out coordinated matching towels and double-fold them
Adjust all taps to center or side on
Remove items like toothbrushes, tissue boxes, skin creams
Close medicine cabinet, ensure no medications are visible
Place toilet seat down, hide reading materials
Bath mats should be taken off the floor and hidden from sight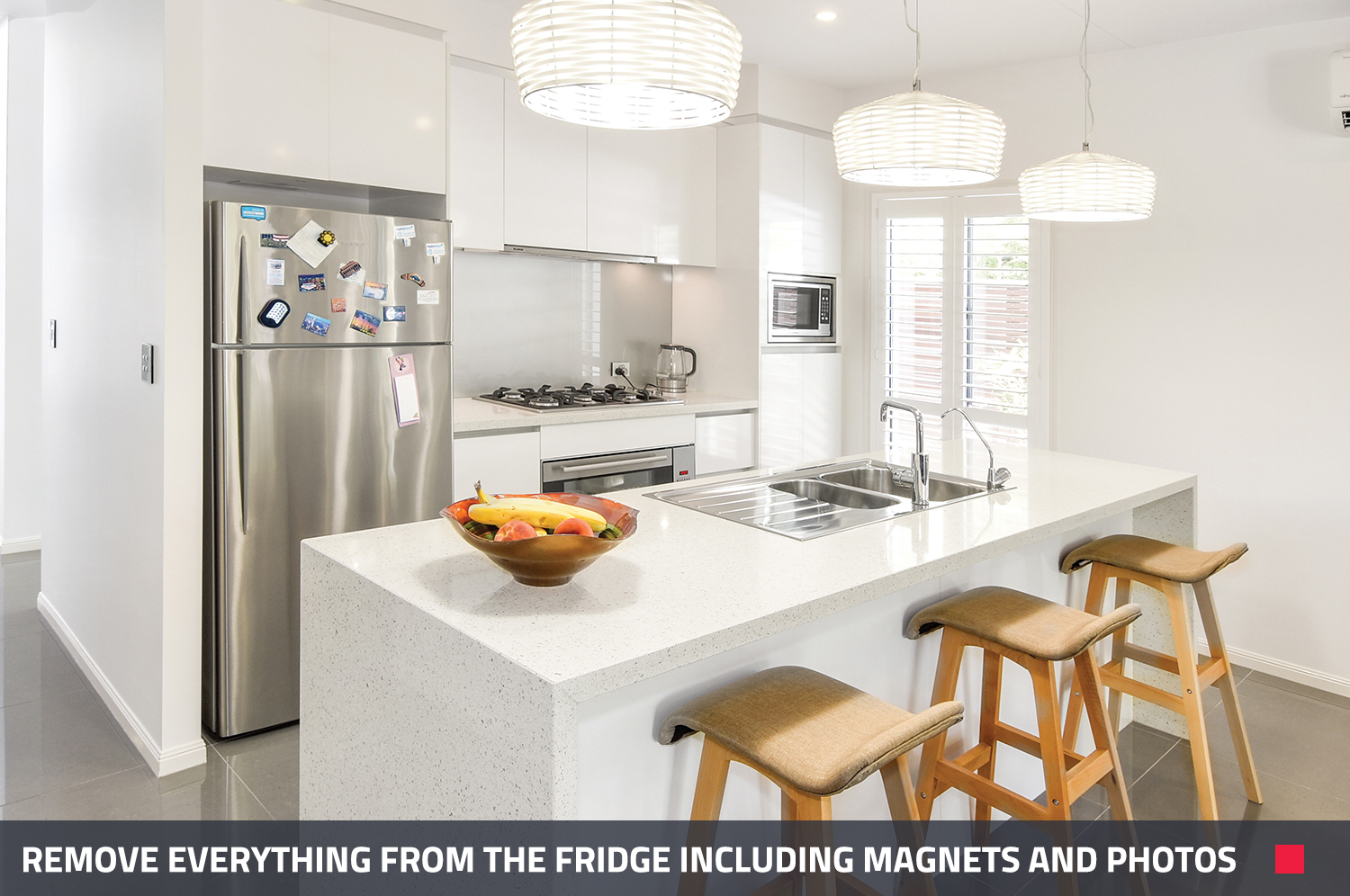 KITCHEN / DINING
Like the bathroom, the kitchen and dining areas of a house can exert great influence either for or against a buyer's decision to purchase a home.
Though preparing a home for a photoshoot usually leans heavily on removing eyesores and other clutter. The kitchen is your opportunity to let the interior decorator in you shine. Before photographing a kitchen or dining room, it's a good idea to set the table with your best cutlery and glassware. A low-height centerpiece can also be a charming touch.
Other things to keep in mind when preparing your kitchen for a photoshoot:
Turn on all lights to supplement the natural light. Even turn on the oven light for that little bit of extra ambiance.
Remove everything from the fridge, magnets, photographs, things-to-do-lists
Clean all appliances so that they are streak, stain, and clutter-free. Put away dishes and remove tea towels.
Hide small appliances like toasters or coffee makers
ENTRY AREA
Like the exterior front, the entry area of your home is a hotbed for first impressions. Make the impression count. Here are some tips to prepare your entry area for a shoot.
Remove shoes, shoe racks, umbrellas, and floor mats.
Consider removing mirrors that could cause awkward reflections or shadows on the day of the photoshoot.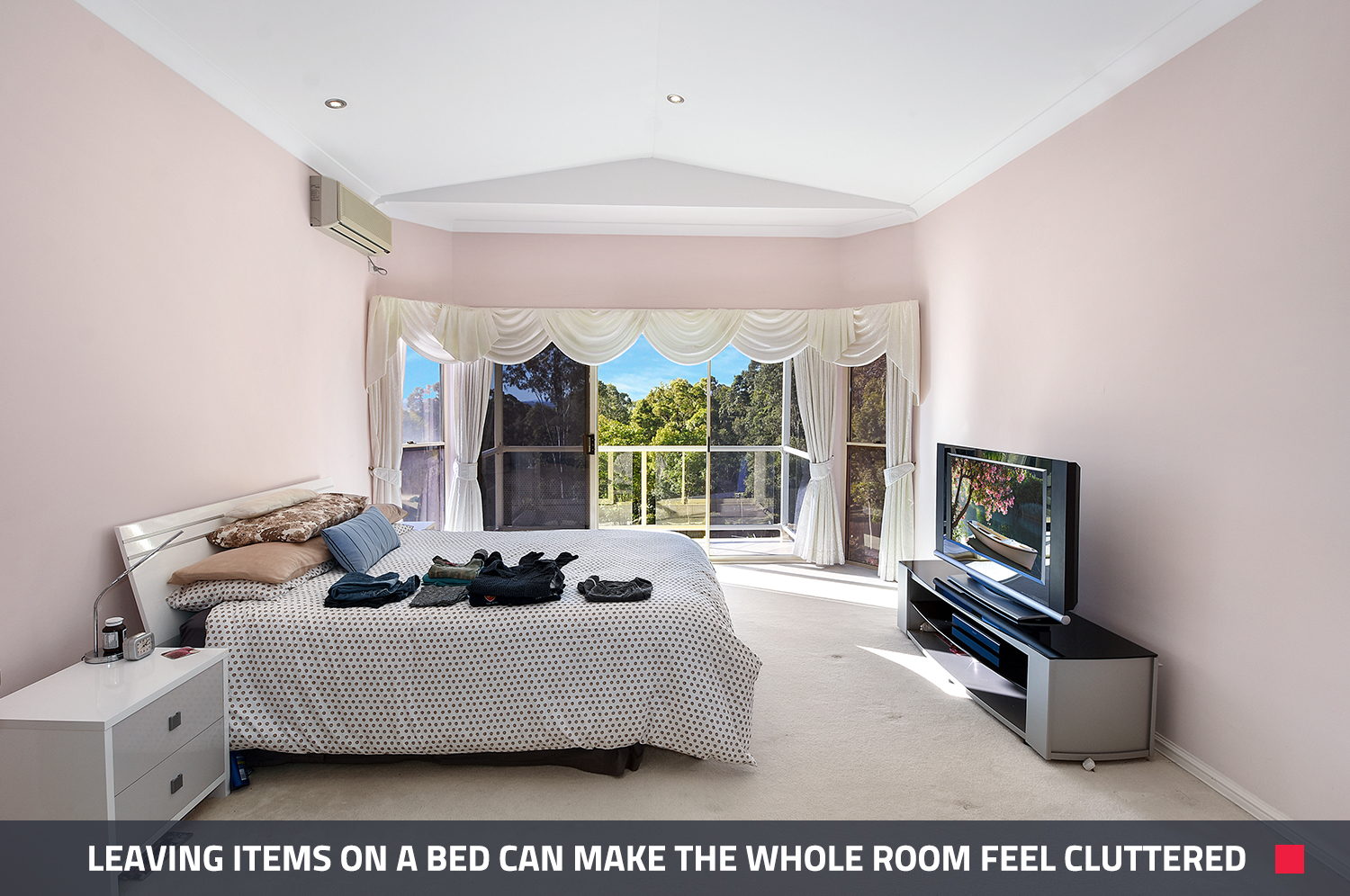 BEDROOMS
The main bedroom is an essential image. Remember that the people who want to see the master bedroom are usually the people buying the house. For this reason, attention must be given to making the main bedroom look as inviting as possible.
Make the bed using your most attractive pillowcases and blankets; neutral colors with small accents of color work well.
Clear all personal items from night tables and dressers.
Turn on all the lights in the room.
Share the Chores: It is a good idea to download our Pre-Photography Checklist and share it with home occupants in the days before a shoot.
I hope you enjoyed this insight as much as I loved it. Check out BoxBrownie.com for creative solutions. If you'd like to talk more about selling a house, contact me today!
References
BoxBrownie.com (4 March 2021) How to Prepare a House for a Photoshoot | Online